THE GREATEST BOOKS IN SPIRITUAL CLASSICS:
St. Teresa of Avila's: Interior Castle (The Seven Mansions)
Fydor Dostoevsky's Brothers Karamazov
Johan Wolfgang Von Goethe's Faust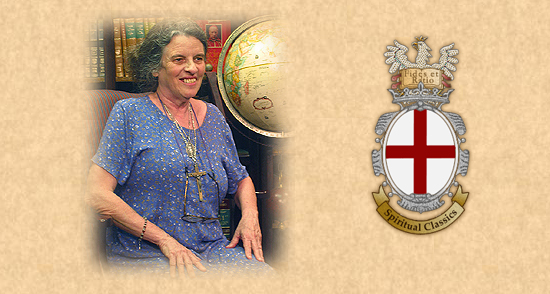 Professor: Dr. Ronda Chervin
Professor of Philosophy & Theology


COMPLIMENTARY GREATEST BOOKS VIDEOS:

DOSTOEVSKY: BROTHERS KARAMAZOV
ST. TERESA OF AVILA: THE INTERIOR CASTLE

Course Descriptions: Dr. Chervin presents an insightful and well articulated presentation of the life and work of St. Teresa of Avila followed by detailed discussions with Dr. Marzak.
Following her presentation of St. Teresa, she has time for some fun in presenting and analyzing one of her favorite pieces of world literature, Dostoevsky's "Brothers Karamazov." Dr. Marzak helps penetrate more deeply into the significance and meaning of this great piece of Russian literature with a politcal and moral analysis.
Finally, Dr. Chervin presents a Christian analysis of Goethe's Faust graced many years of hard-earned wisdom and critique.
NEW ELECTRONIC BOOKS: SAMPLE ABOVE
(Full Version with purchase)
OUTLINE OF INSTRUCTION:
Topic 1: Interior Castle & Biography
Video
Video
Video
Video
Video


Lecture 1: Introduction to St. Teresa's Life
Lecture 2: The Seven Mansios
Discussion I: Dr. Chervin and Dr. Marzak
Discussion II: Dr. Chervin and Dr. Marzak
Discussion III: Dr. Chervin and Dr. Marzak
Topic 2: Fydor Dostoevsky
Video
Video
Video
Video
Video

Lecture 1: Penance and Conversion
Lecture 2: Purification through Suffer
Discussion: Dr. Chervin and Dr. Marzak
Lecture 3: Evil, Social Regimes and Response of Love
Discussion: Dr. Chervin and Dr. Marzak
Topic 3: Johan Wolfgang von Goethe
Video

Lecture 1: Overview and Analysis of Goethe's Faust

Sample E-Books Above
Acces E-Books Below:
(after registration)