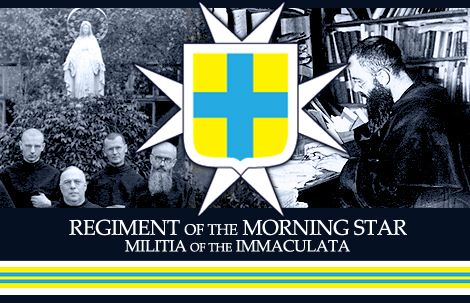 HOW TO JOIN THE MILITIA of the IMMACULATA
ENROLLING IN AND BECOMING a member of the Militia of the Immaculata (MI) is a prerequisite for acceptance into the Regiment of the Morning Star. Joining the MI consists of several steps including the following: 1. Choosing a date on which you would like to be enrolled, 2. Filling out a basic application, 3. Going to Confession, 4. Attending Mass, 5. Conducting a Novena 6. Consecration to the Virgin Mary and 7. Preparation for Consecration. Details follow below:
1. Select a Future Marian Feast Day on which would like to be enrolled by the National Office. You will send an application to the National Office indicating the date you have chosen. The National Office will enroll you on that date (suggested dates and a link to the application are provided below).
2. Fill Out the Application mentioned in Article 1 above (at this address)
3. Plan to Go to Confession either on the Marian Feast Day you have chosen or sometime during the eight days preceding that date.
4. Plan to Attend Mass, if possible, on the Marian Feast Day you have chosen for your MI Enrollment.
Suggested Dates are Listed Below:
January 1 - Solemnity Mother of God
February 11 - Our Lady of Lourdes
March 25 - Annunciation
May 13 - Our Lady of Fatima
May 31 - Visitation
Mon. after Pentecost - Mother of Church
Sat. after Solemnity of Sacred Heart:
The Immaculate Heart of Mary
June 27 - Our Lady of Perpetual Help
July 16 - Our Lady of Mt. Carmel

August 15 - Assumption of Virgin Mary
August 22 - Queenship of Virgin Mary
September 8 - Birth of the Virgin Mary
September 15 - Our Lady of Sorrows
October 7 - Our Lady of the Rosary
November 21 - Presentation of Mary
December 8 - Immaculate Conception
December 12 - Our Lady of Guadalupe
5. Be Sure that there are at Least Nine Days for a Novena between the future Enrollment/Mass date you have chosen and the date on which you will begin preparation for that Mass.
6. Consecration to the Virgin Mary should take place on the day you have chosen for Mass and Enrollment, preferably after Mass on the same day of Enrollment. For this purpose: Recite the Official MI Act of Consecration composed by St. Maximilian Kolbe.
NOTE: Entrust yourself wholeheartedly to Our Lady imploring her to ask the Holy Spirit to guide you on the path to holiness with her!

Pope Pius XI (1926) ruled that a plenary indulgence is to be granted by the Church for enrollment in the MI subject to the usual conditions.
7. Begin Preparation for Consecration to Our Lady in the Spirit of St. Maximilian Kolbe: Between the time you apply online and the future date you have chosen to be enrolled (which should be the same date you have chosen to make your consecration).
The Path to Consecration consists of six Spiritual Readings, which may be fulfilled in various ways:
Individually
As a group activity (in a parish setting, for example)
As a series of classes led by a facilitator or
During a day of preparation for MI consecration
We recommend fulfilling the requirement as an integral part of a Novena
These six spiritual readings are listed and linked below:
You may use this Novena from the writings of St. Maximilian Kolbe for your Preparation.
Ideally, at the conclusion of this Novena, you will have:

(1) Completed your preparation
(2) Will attend Mass (preceded by Confession sometime in the eight days preceding Mass)
(3) On the same day as Mass, you will consecrate yourself to the Virgin Mary and
(4) Be enrolled in the MI by the National Office who will send you written notification of your Enrollment and a Certificate of Enrollment to be filed in a safe place or displayed.
8. To enhance Preparation for Mass and Consecration, it is recommended that you incorporate the following eight-part series on the Militia of the Immaculata (MI), which is intended to complement your Preparation for Consecration to the Immaculata in the Spirit of St. Maximilian Kolbe:
Following Consecration be sure to wear a Miraculous Medal and pass it on to others! Get involved and attend MI local events, if possible.
NOTE: Enrollment in the MI is a personal decision that may only be made by the person who enrolls. For this reason, no one can enroll someone else without his or her understanding and consent.