WHO IS ST. MAXIMILIAN MARIA KOLBE?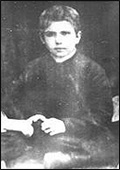 Raymond Kolbe: A Child Consecrated to Purity and Martyrdom
Raymond Kolbe was born January 8, 1894, in Zdunska Wola, Poland. Later, in 1910, he became a Franciscan and adopted the religious name, Maximilian. As a child, he had a temperament and personality that hinted at his future sanctity and mission. According to his mother; "He was always recollected, serious, and praying with tears in his eyes". In frustration, she once corrected him: "My little child, I don't know what is going to become of you." Raymond prayerfully dwelt on these words until his eyes filled with tears and his mother compassionately asked him what was wrong. To which he responded:
"When you said to me what will become of you? I prayed very hard to Our Lady to tell me what would become of me. And later in the church I prayed again. Then the Virgin Mother appeared to me holding in her hands two crowns, one white and one red. She looked at me with love and she asked me if I would like to have them. The white meant that I would remain pure and the red that I would be a martyr. "I answered yes, I wanted them. Then the Virgin looked at me tenderly and disappeared."
Afterward, Raymond kept the miraculous incident hidden in his heart speaking of it only obediently to his mother.
Raymond had a reputation for creativity and innovation; he grew to be a scholar of trigonometry, physics, and chemistry and eventually earned two doctorates, one in philosophy and the other in theology from the Pontifical Gregorian University and the Franciscan International College or Collegio in Rome. Returning to Poland, he was appointed professor of theology at the Franciscan Seminary in Krakow. It was here that Father Kolbe, implemented broader plans to establish the Militia of the Immaculata (MI), a spiritual army explicitly founded to battle Communism and Freemasonry, which were taking hold in Russia and Europe. Specifically he desired through the MI to bring the whole world to God under Christ through the generalship of Mary.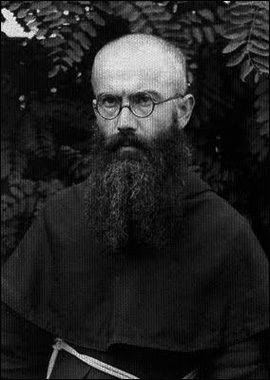 In order to reach a larger audience and to attract new members and as a vehicle for communicating with this growing army, Father Kolbe asked for and received permission from his superior to launch a magazine for which he was solely responsible. The magazine was called The Knight of the Immaculata. The magazine was often given freely away with Kolbe himself distributing copies on street corners until penniless and unable to pay the printing bills. His Collegio friend, Quiricus Pignalberi relates that Father Kolbe went into church and prayed trustingly and intently for Mary's intercession. Then, looking up he noticed a sack on the altar. On it was pinned a note: "For my dear mother, Mary Immaculate." Inside was money--the exact amount of the bill. He took it joyfully to his superior, who permitted him to use the money.
Soon after Father Kolbe received his first major donation of one hundred dollars from a visiting American priest who saw the potential in the mass media for reaching more people. Under Kolbe's leadership, the friars and brothers were able to hand crank 5,000 copy runs. Kolbe was then transferred to Grodno, Poland and there acquired another press which ran 12,000 and then 60,000 copies of the Knight. Usually operating on providence and in debt, like another great saint, and editor, Saint John Bosco, he often caused his poorest associates consternation. Father Alphonse used to worry about the financial risks he thought Father Kolbe took; for example, buying a new press for the apostolate relying on God to "pay the bill." Father Alphonse often times disagreed with Father Kolbe, at times believing that what Kolbe was doing was absolute madness. But the bills always managed to get paid. The novel idea of a priest surrounded by an army of Franciscan brothers who had mastered modern technology was heard throughout Europe and elsewhere. Work was demanding and Kolbe shared every burden.
Eventually the publishing house was moved to Niepokalanow (The City of the Immaculate) where it became one of the largest friaries and publishing houses in the entire world. The machines, even in those times, could produce 16,000 copies an hour. New techniques for type-setting photography, and binding were adopted. The new equipment and attention to technology made it possible to meet an ever proliferating demand, which had reached a phenomenal circulation of 750,000 per month. By 1935 a daily newspaper was added (The Little Daily) with 135,000 daily copies and 225,000 on the Sundays. Father Kolbe persistently kept his eyes on utilizing modern media technology.
In 1938 a radio station was installed at Niepokalanow. In a short time Maximilian rallied more than a million people of all backgrounds under the banner of the Immaculata. The publishing efforts of Maximilian and the friars were so immense that years later the Polish episcopate sent an official letter to the Vatican proclaiming how Kolbe's magazine had prepared the nation to survive and endure the atrocities of war.

A SAINT FOR THESE DIFFICULT TIMES:
Homily from the Canonization of St. Maximilian Kolbe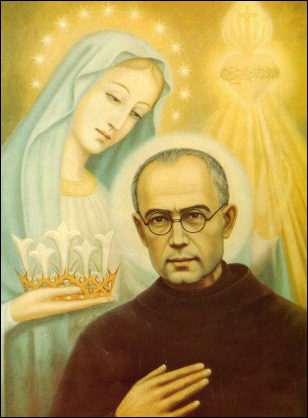 "Greater love has no man than this, that a man lay down his life for his friends" (John 15:13)
On October 10, 1982, His Holiness Pope John Paul II applied the above words to the heroic life of Father Maximilian Kolbe.
"From today on, the Church desires to address as 'Saint' a man who was granted the grace of carrying out these words of the Redeemer in an absolutely literal manner. For towards the end of July, 1941, when the camp commander ordered the prisoners destined to die of starvation to fall in line, this man-Maximilian Maria Kolbe-spontaneously came forward and declared himself ready to go to death in the place of one of them. This readiness was accepted and, after more than two weeks of torment caused by starvation, Father Maximilian's life was ended with a lethal injection on August 14, 1941".
"All this happened in the concentration camp at Auschwitz where during the last war some four million people were put to death, including the Servant of God, Saint Edith Stein (the Carmelite Sister Teresa Benedicta of the Cross). Disobedience to God-the Creator of life who said, "Thou shalt not kill"-caused in that place the immense holocaust of so many innocent persons. And so at the same time, our age has thus been horribly stigmatized by the slaughter of the innocent".
Father Maximilian Kolbe, himself a prisoner of the concentration camp, defended in that place of death an innocent man's right to life. Father Kolbe defended his right to life, declaring that he was ready to go to death in the man's place, because he was the father of a family and his life was necessary for his dear ones. Father Kolbe thus reaffirmed the Creator's exclusive right over innocent human life. He bore witness to Christ and to love. For the Apostle John writes: "By this we know love, that he laid down his life for us. And we ought to lay down our lives for the brethren" (1 John 3:16).
"The Church has venerated Father Maximilian as "Blessed" since 1971. By laying down his life for a brother, he made himself like Christ. Gathered today before the Basilica of St. Peter in Rome, we wish to express the special value which Father Maximilian Kolbe's death by martyrdom has in the eyes of God. 'Precious in the sight of the Lord is the death of his saints.' These are the words we have repeated in today's responsorial psalm. It is truly precious and inestimable! Through the death which Christ underwent on the Cross, the redemption of the world was achieved, for this death has the value of supreme love. Through the death of Father Maximilian Kolbe, a shining sign of this love was renewed in our century which is so seriously and in so many ways threatened by sin and death".
"In this canonization liturgy there seems to appear before us that 'martyr of love' of Oswiecim (as Paul VI called him), saying: 'O Lord, I am thy servant. I am thy servant, the son of thy handmaid. Thou has loosed my bonds' (Psalm 115 (116):16). And as though gathering together in one sacrifice the whole of his life, he-a priest and a spiritual son of saint Francis-seems to say: 'What shall I render to the Lord for his bounty to me? I will lift up the cup of salvation and call on the name of the Lord' (Psalms 115 (116):12). These are words of gratitude. Death undergone out of love-in the place of one's brother-is an heroic act of man. It is an act through which, together with the one already beatified, we glorify God. For from God comes the grace of such heroism, of this martyrdom."
"Therefore let us today glorify God's great work in man. Before all of us gathered here, Father Maximilian Kolbe lifts up his 'cup of salvation.' In it is contained the sacrifice of his whole life, sealed with the martyr's death 'for a brother.' Maximilian prepared for this definitive sacrifice by following Christ from the first years of his life in Poland. From these years comes the mysterious vision of two crowns-one white and one red. From these our saint does not choose. He accepts them both. From the years of his youth, in fact, Maximilian was filled with the great love of Christ and the desire for martyrdom".
"This love and this desire accompanied him along the path of his Franciscan and priestly vocation, for which he prepared himself both in Poland and in Rome. This love and this desire followed him through all the places of his priestly and Franciscan service in Poland and in his missionary service in Japan".
The inspiration for Maximilian Kolbe's entire life was the "Immaculata". "To her he entrusted his love for Christ and his desire for martyrdom. In the mystery of the Immaculate Conception there revealed itself before the eyes of his soul that marvelous and supernatural world of God's grace offered to man. The faith and works of the whole life of Father Maximilian show that he thought of his cooperation with divine grace as a warfare under the banner of the Immaculate Conception. This Marian characteristic is particularly expressive in the life and holiness of Father Kolbe. His whole apostolate, both in his homeland and on the missions, was similarly marked with this sign. In Poland and in Japan the centers of this apostolate were the special cities of the Immaculata-Niepokalanow in Poland and Mugenzai no Sono in Japan".
God Found Him Worthy of Himself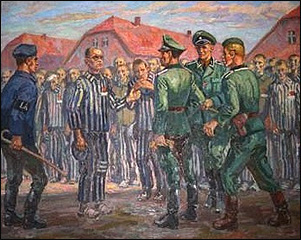 "What happened in the starvation bunker in the concentration camp at Oswiecim (Auschwitz) on August 14, 1941? The reply is given in today's liturgy. "God tested" Maximilian Maria "and found him worthy of himself" (Wisdom 3:5). God tested him "like gold in the furnace and like a sacrificial burnt offering he accepted him" (Wisdom 3:6). Even if "in the sight of men he was punished," yet "his hope is full of immortality." For "the souls of the righteous are in the hands of God and no torment will ever touch them." And when-humanly speaking-torment and death came to them, when "in the eyes of men they seemed to have died...", when "their departure from us was thought to be an affliction...", "they are in peace." They experience life and glory "in the hands of God" (Wisdom 3:1-4). This life is the fruit of death like Christ's death. Glory is the sharing of his resurrection. So what happened in the starvation bunker, on August 14, 1941? There were fulfilled the words spoken by Christ to the Apostles that they "should go and bear fruit and that their fruit should abide" (John 15:16). In a marvelous way the fruit of the tragic death of Maximilian Kolbe endures in the Church and the world!
In Their Minds It Was Not "Death"
"Men saw what happened in the camp at Auschwitz. And even if to their eyes it must have seemed that a companion of their torment "dies," even if humanly speaking they could consider "his departure" as "a disaster," nevertheless in their minds this was not simply "death." Maximilian did not die but "gave his life...for his brother." In that death, terrible from the human point of view, there was the whole definitive greatness of the human act and of the human choice. He spontaneously offered himself up to death out of love. And in this human death of his there was the clear witness borne to Christ: the witness borne in Christ to the dignity of man, to the sanctity of his life, and to the saving power of death in which the power of love is made manifest".
Hero of Auschwitz: Maximilian's Death a Sign of Victory
"Precisely for this reason the death of Maximilian Kolbe became a sign of victory. This was victory won over all systematic contempt and hate for man and for what is divine in man-a victory like that won by our Lord Jesus Christ on Calvary".
"You are my friends if you do what I command you" (John 15:14).
"The Church accepts this sign of victory-won through the power of Christ's redemption-with reverence and gratitude. She seeks to discern its eloquence with all humility and love".
"As ever when the Church proclaims the holiness of her sons and daughters, as also in the present case, she seeks to act with all due exactness and responsibility, searching into all the aspects of the life and death of the Servant of God".
"Yet at the same time the Church must be careful, as she reads the sign of holiness given by God in his earthly Servant, not to allow its full eloquence and definitive meaning to go unnoticed. And so, in judging the cause of Blessed Maximilian Kolbe even after his Beatification, it was necessary to take into consideration many voices of the People of God-especially of our Brothers in the episcopate of both Poland and Germany-who asked that Maximilian Kolbe be proclaimed as a martyr saint".
"Before the eloquence of the life and death of blessed Maximilian, it is impossible not to recognize what seems to constitute the main and essential element of the sign given by God to the Church and the world in his death. Does not this death-faced spontaneously, for love of man-constitute a particular fulfillment of the words of Christ? Does not this death make Maximilian particularly like unto Christ-the Model of all Martyrs-who gives his own life on the Cross for his brethren? Does not this death possess a particular and penetrating eloquence for our age? Does not this death constitute a particularly authentic witness of the Church in the modern world"?
"And so, in virtue of my apostolic authority, I have decreed that Maximilian Maria Kolbe-who after his Beatification was venerated as a Confessor-shall henceforeward be venerated also as a Martyr!
"Precious in the eyes of the Lord is the death of his faithful ones!" Amen
Priest Hero of a Death Camp
Excerpt from Mary Craig
On May 28, Father Maximilian was with over 300 others who were deported from Pawiak, Poland to Auschwitz. There he received striped convicts garments and was branded with the number 16670.
He was put to work immediately carrying blocks of stone for the construction of a crematorium wall. On the last day in May he was assigned with other priests to the Babice section which was under the direction of "Bloody Krott" an ex-criminal.
"These men are layabouts and parasites." Said the commandant to Krott, "Get them working." Krott forced the priests to cut and carry huge tree trunks. The work went on all day without a stop and had to be done running with the aid of vicious blows from the guards. Despite his one lung, Father Maximilian accepted the work and blows with surprising calm. Krott conceived a relentless hatred against the Franciscan and gave him heavier tasks than the others. Sometimes his colleagues would try to come to his aid but he would not expose them to danger. Always he replied "Mary gives me strength. All will be well."
One day Krott found some of the heaviest planks he could lay hold of and personally loaded them on the Franciscans back ordering him to run. When he collapsed, Krott kicked him in the stomach and face and had his men give him 50 lashes. When the priest lost consciousness Krott threw him in the mud and left him for dead. But his companions managed to smuggle him into the Revier, the camp hospital. Although he was suffering greatly, he secretly heard confessions in the hospital and spoke to the other inmates of the love of God.
In Auschwitz, where hunger and hatred reigned and faith evaporated, this man opened his heart to others and spoke of God's infinite love. He seemed never to think of himself. When food was brought in and everyone struggled to get his place in the queue so as to be sure of his share, Father Maximilian stood aside, so that frequently there was none left for him. At other times he shared his meager ration of soup or bread with others. He was once asked whether such self abnegation made sense in a place where every man was engaged in a struggle for survival, he answered:
"Every man has his aim in life. For most men it is to return home to their wives and families, or to their mothers. For my part, I give my life for the good of all men".
Men gathered in secret to hear his words of love and encouragement but it was his example which counted for most. Father Zygmunt Rusczak remembers:
"Each time I saw Father Kolbe in the courtyard I felt within myself an extraordinary effusion of his goodness. Although he wore the same ragged clothes as the rest of us, with the same tin can hanging from his belt, one forgot this wretched exterior and was conscious only of the charm of an inspired countenance and of his radiant holiness."
Patron of the Kolbe HOUSE OF STUDIES:
We echo the prisoners at Auschwitz when the news spread from mouth to mouth that Father Maximilian Kolbe was among them,
"We are glad to have such a real man, a fighter--a fighter for truth--among us".
In the time we have been associated with Father Kolbe, we have been taken ever deeper into the meaning of his life to see him ever more clearly as an exemplar and role model for modern humanity. Maximilian Kolbe surrounded by cruelty, human degradation and dehumanization in the death camp at Auschwitz is living proof that even in the darkest of places, even in places literally engulfed with the stench of death, love is possible, the type of love that is necessary in these difficult times as the Body of Christ labors to build a new man and a new humanity, what Pope Paul VI referred to as a "Civilization of Love". Father Kolbe's special charism as a contemporary model is manifest in the proclamation by Pope John Paul II making him the "Patron of our Difficult Times." To understand what these words mean - patron of our difficult times - it is necessary to understand what these times have in common with the life and witness of Maximilian, only than will the meaning of his patronage become vividly clear.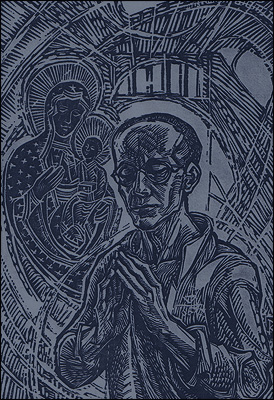 The Kolbe House of Studies is committed to providing education and formation necessary to establish and to build a civilization of justice and of love. Trusting in the Holy Trinity who is our confidence, we are committed to the prophetic wisdom: "even in drought a well rooted tree brings forth fruit" (Jeremiah 17:8).
The modern world has suffered many convulsions and revolutions aimed at the destruction of our Christian patrimony and the building of a new civilization without Christ. Lenin and his cohorts boldly proclaimed, "Ha ha ha, we are going to tear the whole thing down and upon the ruins we will build a new temple and put our father in it."
Lenin was not alone; he has been joined by many adroit revolutionaries and reconstructionists calling for a brotherhood of man, for liberty, equality and fraternity. We share their desire for peace and justice, brotherhood, and deeper harmony, but realize such a civilization cannot be built upon any other foundation than that which is Christ and upon the rock that he established his church and his kingdom.
Maximilian Kolbe had a unique encounter with a culture that excludes Christ, His church, his people, and his law. Looking behind those imposing barbed wires and concrete walls in the death camp at Auschwitz, we are all witnesses with Father Kolbe to a culture of death, of hatred, and of extreme egoism which runs contrary to every principle established by Christ for the governance of His Kingdom.
St. Augustine grasped this essential concept extremely well when he taught that on earth there are two kingdoms built upon two totally different laws from which all other lesser laws and principles are derived. Augustine saw clearly that LOVE is the ontological source of all of our actions, LOVE is the source and fount of all authentic civilizations and cultures. However, he reminds us that there are two types of love:
(1) "The love of God to the contempt of self and (2) the love of self to the contempt of God."
It is the love of self without Christ (or the attempt to love others without Christ) that is the source of all that is destructive, destructive of inner peace, civic peace, and global peace. Yet it is on this principle that all the enemies of Christ seek to establish their kingdom and to place their father as its head. Love of self (or attempted love without God who is love -- 1 John 4:8), despite feigned charity and protestations ultimately leads to selfishness, egoism, false love-philanthropy, and narcissism.
Narcissism is a manifestation of extreme self-love that in the end leads to hate, which hides behind feigned deeds and words. According to famed German psychoanalyst Karl Abraham whom Freud called his "best pupil":
"Melancholia qualified as narcissistic psychoneurosis par excellence: a state where a 'pure culture of the death instinct' supports a superego at war with the ego. 'Complete and unrestricted cannibalism' is fueled by 'unrestricted narcissism'" (1924 quoted by Vincent, 2011, p. 488).
It is this type of culture that was built up behind those barbed walls at Auschwitz. It was alive in the souls of Nazi SS guards and growing among the prisoners themselves. Faced with starvation and death, men and women turned inwards to themselves. Thinking only of survival and motivated by ever-growing animal instincts encouraged by SS officers (that permitted men to prey upon one another and to seek their own good even to the detriment and destruction of others), prisoners often turned on each other. When someone escaped, instead of rejoicing, we are told, there was cursing because it meant punishment for those left behind. Sharing of food was unheard of, betrayal of friends, winning favor of the guards by turning others in, even falsely, were common. When human beings were signaled out for death instead of lamentation there was relief because someone else's death meant that you had been passed over and spared.
In the modern world where human dignity is increasingly measured by political power, economic success, and an ability to satisfy an ever increasing array of wants, to the extent that these factors have become the cultural norm for measuring human worth, the culture of death has grown out beyond the walls of Auschwitz.
"The evil

of our times consists in the first place in a kind of degradation, indeed in a pulverization of the fundamental uniqueness of each human person….To this disintegration, planned at times by atheistic ideologies we must oppose, rather than sterile polemics, a kind of "recapitulation" of the mystery of the person" (Pope Saint John Paul II).
Few with open eyes can fail to see the extreme individualism, egoism, and selfishness are engulfing the world in a sea of materialism, which for all intents and purposes denies, not the only existence of God, but denies the existence God in the way that Christ revealed Him to the world. Only God can rightly say "I Am".
If Christ is not preached, indeed, not Christ alone, but Christ as the second Person of the Holy Trinity consubstantial with God the Father who became man and was crucified as a manifestation of Divine Love, if He is not preached, no matter how high sounding the rhetoric, we must strenuously respond, not by renunciation of the world, with an even louder proclamation of the only Truth which brings salvation to the world: the Word who is not a book, but a Divine Person (John 1:1-3), a Person who became flesh (John 1:14) and offered this same flesh out of love for the life of the world (Luke 22:19; 1 Corinthians 11:24).

He has placed the commandment to love as He loves (John 15:12; John 13:34) at the pinnacle of all laws by which human beings will be judged (Matthew 25:31-36; 1 Corinthians 13). Men and women will all be judged by this law because it is the deepest ontological reality, (the mystery of Divine Love, the life of the Holy Trinity) written as image and as likeness into the depth of every human being. Love is the human (philios) and divine (agape) means by which human potential is actualized and by which human beings are potentially divinized as the mystical Body of Christ. St. Maximilian Kolbe embraced and lived by this mystical love, even unto death to, and then of, himself.
It is necessary to speak about, to teach, and most importantly, to live this doctrine, a divine doctrine that is a contradiction to the world and its popular prophets, who like Lenin before them preach a gospel of self-love, or of false-love, and a brotherhood of humanity without Christ that ultimately, whether in Communist countries or in Nazi concentration camps, leads to hatred and destruction. Lenin and Hitler both spoke of love and of fraternal brotherhood. Nonetheless, the discriminating ear will discern that their empty rhetoric was motivated by aggrandizement and self-love, the type of love that ultimately destroyed both them and their systems and led to the "degradation" of the human beings living in the inhumane systems built by such men. Eventually, as is evident even now, men and women who have been deceived by such false-prophets of love ultimately recoil against them because, contrary to their panegyric, they work against man, against the mystery and dignity of the human person until things get so bad that people cannot stand it any more.
Christ's Law of Love of God to contempt of self mysteriously leads in the opposite direction. It leads, though not in a perfect way, to a civilization of compassion, mercy, and true caring. It leads to the seeming annihilation of self for the benefit of another, to the consideration of individual good, in the context of the common good - love always thinks about the good of others as well as its own good. The mystery is summed up in the idea of laying down one's life in order to find it; it is summed up in words that St. Francis loved to repeat:
"For it is in giving that we receive, it is in pardoning that we are pardoned, and it is in dying (to self) that we are born to eternal life".
Francis drew his inspiration for these words from the deepest and most profound teaching of Christ on the subject:
"Amen, amen I say to you, unless the grain of wheat falling into the ground die, Itself remaineth alone. But if it die, it bringeth forth much fruit. He that loveth his life shall lose it; and he that hateth his life in this world, keepeth it unto life eternal. If any man minister to me, let him follow me" (John 12:24-25).
This is the key, the supreme mystery: In dying to themselves men and women are born to a life of happiness and a life filled with grace, meaning and peace, human and divine peace. Maximilian Kolbe took this simple idea to its interior depths and exterior heights. He is remembered and honored, his help is sought and desired, not because he laid down his life one day, but because he laid down his life every day. Maximilian Kolbe not only died that August 14, Maximilian Kolbe died every day; bit by bit he gave his life as an oblation of love and service until that self giving was finally crowned with the complete and definitive act of love when he followed Christ and laid down his life for a friend--greater love has no man.
Saint Maximilian shows us that even in a culture of death and intense egoism, love is possible and love attracts. Maximilian was a magnet of love in a see of hatred and despair. Men crawled on their bellies in the cover of the night to receive counsel, absolution, and strength from this Catholic priest, this man of God. Survivors still tell us how Father Kolbe was admired when kicked and beaten into unconsciousness.
This man, like Christ before him, did not cry out but bore it all with such magnanimity that even his captors and persecutors admired him as "an extremely courageous man, really a superhuman hero." In a conversation among SS officers it was said
"So einen wie diesen Pfarrer haben wer hier noch nicht gehabt. Das muss ein ganz aussergewohnlicher Mensch sein." ("We've never had a priest here like this one. He must be wholly an exceptional man.")
When insulted and beat he prayed more intently for those who beat him. In fact, he understood that he was a blessing for them because he offered all his suffering in union with the crucified Christ for the salvation of those by whom he was brutalized.
Why Maximilian Kolbe? Because this man is a light in darkness, an exemplar of love which is sorely needed in a world continually sinking in the mire of selfishness. He is a witness to us all that love is possible even in these difficult times. He is a guarantee that love triumphs over hatred; he is an exemplar of the new civilization that the architects of a new humanity are being called upon to build atop the crumbling and tottering walls of Christendom. Saint Maximilian Kolbe teaches us to hope and not to despair, to confidently build and to renew secure in the power and love of God poured forth into the hearts of all His children by the Spirit of Divine Love given especially to those who serve under the mantle of the Immaculata who promised at Fatima that in the end her Immaculate Heart would triumph over the culture of death to be followed by an Era of Peace to be granted to humanity, a time to build a civilization of love, during a time that Pope John Paul II and successors have referred to as the "New Evangelization".
This is the task of the Kolbe House, to prepare men and women to build up and to confidently renew all things on the foundation of Christ and from His commandment of Divine Love. They must learn the truth about human nature, study the soul and spirit, study the mystery of the Holy Trinity from which both man and society proceed, grasp the importance of ethics, master Catholic Social Teaching and its manifestation in Christian Law and its Jewish antecedents as reveled in the Old Testament; they must also understand the role of the Virgin Mary and Catholic eschatology while endeavoring to grow morally and spiritually in holiness so as to better imitate Christ as did His servant, Maximilian Kolbe.
In this regard, the Holy Spirit speaking through the Church gathered in ecumenical council declared that:
"The laity must take up the renewal of the temporal order as their own special obligation.... Preeminent among the works of this type of apostolate is that of Christian social action which the sacred synod desires to see extended to the whole temporal sphere, including culture" (Vatican II: Decree on the Apostolate of the Laity, 1965).
This type of work requires theological and moral virtue as well as theoretical and practical wisdom, understanding, competence, and knowledge:
"Centers of documentation and study not only in theology but also in anthropology, psychology, sociology, and methodology should be established for all fields of the (social) apostolate for the better development of the natural capacities of the laity-men and women, young persons and adults. Laymen should above all learn the principles and conclusions of the social doctrine so as to become capable of working for the development of this doctrine to the best of their ability and of rightly applying these same principles and conclusions to individual cases" (Decree on Apostolate of the Laity).
The Kolbe House of Studies is committed to these tasks: Spiritual, Social, and Cultural renewal upon the principles established in Christ's Gospel, more clearly structured and formulated in Papal Social Teachings and the writings of the saints, doctors, martyrs, and confessors of the Church. In this process of renewal we are joyous to be led by Father Kolbe who gave his life as a witness to this possibility and who reminds us of the necessity of the papacy, of the Immaculata, and the Law of Christ's Love by which and through which the world is ever renewed, sustained, and fortified.
You, prince of God's people in these trying times, pillar of Divine Love, exemplar of Christ crucified, and true son of the Immaculata, lead us foreword in the daunting task of renewal sure of the unconquerable light of Christ that streams forth from the Immaculate Heart as the only light in this hour of darkness illuminated by Divine Mercy. Help us to grow and to remain valiantly united under her mantle, the tent of heaven and the dwelling of God's glory, from which radiate life and divine power. Her enemies and the enemies of her Son rage outside with prophetic enmity (Genesis 3:15) while she maneuvers to crush their head. The victory will come, but it will not be without the Immaculata who, fair as the moon and bright as the sun (Rev. 12:1), never fails to reflect the light and love of her Son even in these difficult times.
We turn to you St. Maximilian Maria Kolbe in this definitive hour at this crucial moment, help us to build anew and to rebuild all that is good, and holy, true and beautiful, all that lifts the human spirit to the Divine -- a new mind and a new heart complemented by a solidaristic social system, a culture of love, a new man and a new humanity.
Amen.