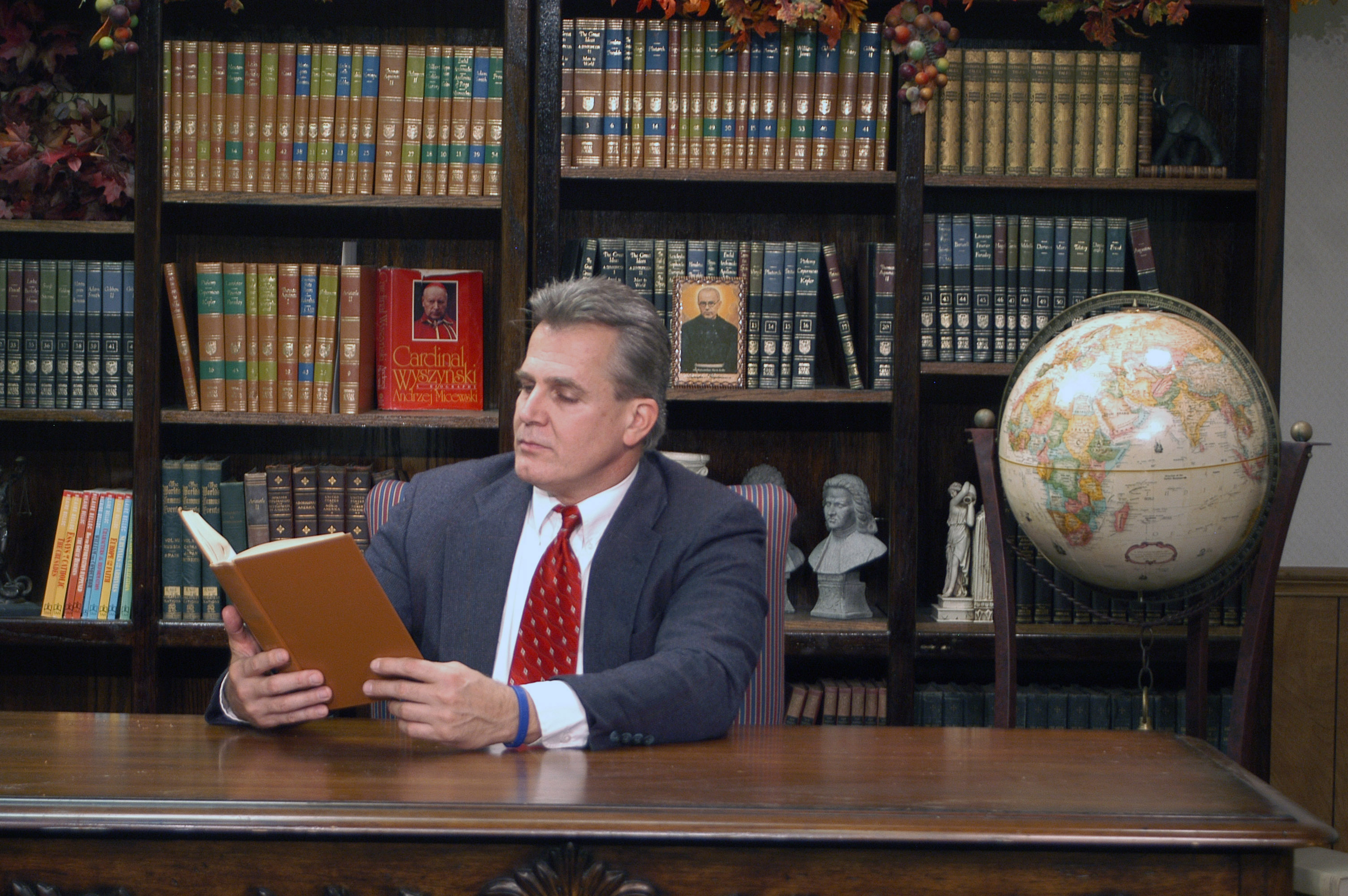 1. Kolbe Home
2. The Kolbe Foundation
2. Kolbe's Greatest Books Library
3. What are the Greatest Books?
4. House of Studies Curriculum

I AM PLEASED to welcome you to "The Center for Politics and Christian Civilization".
The Center for Politics and Christian Civilization (CPCC) is a work of the Kolbe Foundation, which is devoted to liberal arts education and to the formation of lay men and women for the work of political, economic, social and cultural renewal -- Christian Civilization.
To help promote these broad goals, the Center has developed, and is continually developing, online live and anytime video courses and course materials for the study of politics and social ethics as part of the growing curriculum for the Kolbe "House of Studies".
We are also publishing, selling, and distributing books and materials congruent with our mission and vision to form "a new man and a new humanity", which is in direct response to the need for higher education and formation of the laity to take up their task of modern social renewal articulated by the Church:
"The laity must take up the renewal of the temporal order as their own special obligation.... Preeminent among the works of this type of apostolate is that of Christian social action which the sacred synod desires to see extended to the whole temporal sphere, including culture" (Vatican II: Decree on the Apostolate of the Laity, 1965).
Social renewal requires theological and moral virtue as well as theoretical and practical wisdom, understanding, competence, and knowledge. As such, the Church has asked us to establish Educational Centers committed to this purpose:
"Centers of documentation and study not only in theology but also in anthropology, psychology, sociology, and methodology should be established for all fields of the apostolate for the better development of the natural capacities of the laity-men and women, young persons and adults. Laymen should above all learn the principles and conclusions of the social doctrine so as to become capable of working for the development of this doctrine to the best of their ability and of rightly applying these same principles and conclusions to individual cases" (Decree on Apostolate of the Laity).
The Center for Politics and Christian Civilization is thus committed to the ongoing creation of appropriate courses (in the fields of anthropology, psychology, methodology, politics, law, economics and sociology), and to the creation, dissemination and safeguarding of the universal Christian patrimony in books and other educational materials essential to social renewal.
Our approach to education is uniquely integral. That is, it aims to properly order and unite the various disciplines into a cohesive whole in order to better facilitate and advance learning. Specifically, the (CPCC) embraces the empirical and social sciences as parts of a broader educational paradigm that also includes theology and philosophy (faith and reason) in our study of man and society.
It is our belief that successful modern renewal depends upon personal sanctification augmented by the development and implementation of a new, and much needed, integral methodology congruent with integral intellectual vision, a vision that seeks to comprehend the order, unity and goodness among the disciplines and thereby profits from their synergistic cooperation. It is through the provision of curricula and integral courses broad enough to unite the empirical, philosophical, and theological disciplines that we have great hope for the development and implementation of Christian social thought in the modern world as called for by the fathers of Vatican Council II.
Congruent with these purposes, we have assembled an extensive electronic library consisting of various collections (philosophy, theology, literature, math, science, education, art, history, jurisprudence and law as well as collections in patristics, papal encyclicals, canon law, catechesis and American Studies among others), chief among them being "The Greatest Books of Christian Civilization". The Greatest Books are a special collection, which constitute the core around which we have developed (1) integral online Politics, Christian Civ., and Greatest Books Video Courses for self-education and (2) regular online Live Courses in Politics and Christian Civilization, which include short-term and semester-long live and video courses in methodology, psychology, ethics, politics, Christian Civilization and social ethics. You can find these courses and supporting syllabi, reading materials, catalog, schedule, and other related multi-media information on the various drop down menus and graphic interfaces easily assessable off of the Home Page.
Finally, we are in the process of two major projects: (1) Publishing the Greatest Books in both hardcopy and electronic formats and (2) Developing an online Global News Service.
The Greatest Books were begun back in 1999 as the core of our long-continuing efforts to contribute to the renewal of Christian culture. The 1999 HTML edition has been cleaned and renewed for free online use. Long desiring to have The Greatest Books grace our own home-library, we began publishing them late in 2014. They are now increasingly available in beautiful bond hardcopy at Amazon.com bookstore. The hardcopy set is a work in progress that is being added to each month. This unique collection of outstanding readings is both a valuable and immeasurable intellectual asset and a beautiful-affordable addition to your own home-library. You can find out more about The Greatest Books and what makes them so special from the drop down menu on the Home Page. The online Electronic Greatest Books are a beautiful companion set for viewing by PC, laptop, Kindle, android, Mac etc. They are available in the Kolbe Bookstore or by purchase of a library card that provides annual access to the books as they are published.
The CPCC is also ready to launch a much needed online Global News Service and Intelligence Report from an integral Christian perspective cognizant of the need for objective analysis and uniquely in tune with the challenging eschatological nature of the our times and the ongoing relevancy of the Messages of Fatima and Divine Mercy.
We hope you will enjoy and profit immensely from our collection of outstanding books and online courses and that you too will be prepared to contribute to the ongoing work that is upon us all: the building and renewal of Christian Civilization.
VIEW:
Live Semester Long Social Ethics Course
Live Semester Long Gateway to Politics Course
Video Methodology Course
Video Psychology Course
Video Ethics Course
Video Politics and Jewsih Law Courses
Video Semester Gateway Course to Politics and Christian Civ.